Skarpaz blades are made with state of the art manufacturing equipment and production techniques using the finest saw material available. All Skarpaz blades feature the following qualities.
Laser cut saw bodies designed on an in-house computer aided design system cut from world class European alloy tool steel.
European C-3, sub micron corrosion resistant, or specialty grades for maximum edge and tool life.
Every saw plate is surface groungd for an exceptionally flat plate.
Every blade is individually roll and hammer tensioned by skilled hammer smiths.
Tri-Metal brazing of carbide tips on fully automated induction brazing machines.
Honed arbor holes to H-7 tolerance to ensure precise arbor fit.
Precision sharpening on automatic CNC machines ensuring accurate and consistent cutting angles.
Hook + Tooth Style
General Application
LRCR: -5 degree hook + 30 degree top bevel
Double sided laminates
ATB + R: 0 to -2 hook + alternate top bevel + raker tooth
Mitering picture frame moldings
ST: 20 degree hook + square top
Rip cuts in solid wood
LRTCG: 0 to -5 hook + three alternately
chamfered teeth
Non ferrous metal
ATB: -5 to 20 hook + alternate top bevels
Rip and cross cuts in solid wood
CMB: 15 degree hook +alternate top bevels + raker tooth
Rip and cross cuts in solid wood
TCG: -5 hook to 20 hook + triple chip grind
Non ferrous, plastics, laminates, hardwoods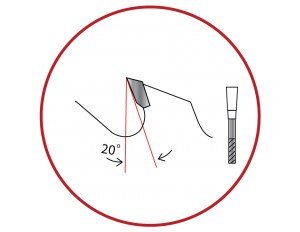 Hook Angles
For blades to achieve their optimum performance, the appropriate hook angle and tooth grind must be considered. In the following pages, hook angle and tooth style will be listed together
For Example: 20 hook + straight top grind